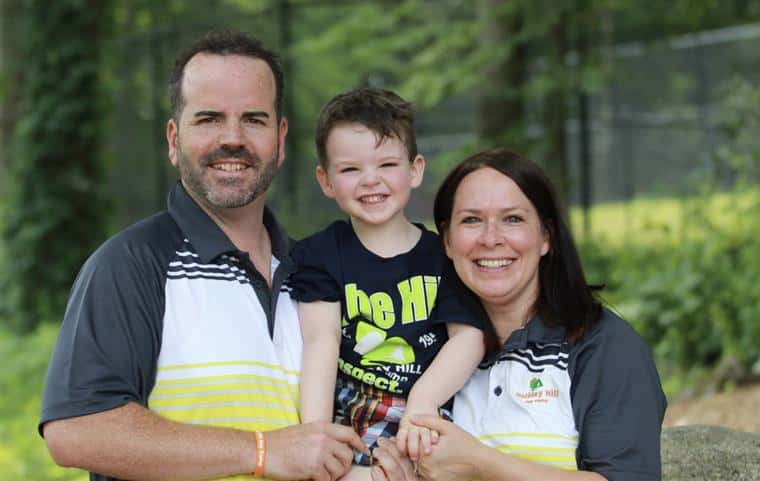 Meet Our Administrative Staff
Our Philosophy
Holiday Hill Day Camp takes pride in the purposeful focus we place on the relationships forged between our Campers, Counselors, and Instructors. It truly sets the tone for fostering your child's independence, confidence, and critical thinking skills. We offer both quality daily activities in diverse content areas and also exciting special events across our programming. Our staff strives to ensure that our shared values of teamwork, respect, kindness, honesty, and personal responsibility embody all we do.
Michael, Amy and Elijah Youngman
Michael has worked at Holiday Hill for 13 years, 3 as director. Prior to HHDC, he was the director of YMCA Camp Mt. Laurel and the Hamden Green Dragon Camps for a combined 8 years.
Melissa Rhone, Program Director
Melissa Rhone is starting her third summer working at Holiday Hill, though as a kid spent a couple of summers as a camper! She works as a 5th grade teacher for Cromwell Public Schools during the school year. She has a husband and two children.
Sharee Baskin, Assistant Director
Sharee will be spending her sixth year at Holiday Hill. She has taught for eleven years and is currently a 3rd grade teacher for ACES Schools. As a camp employee and educator, Sharee loves to spend the summers surrounded by smiling children who are having the ultimate camp experience.
Bob Rhone, Group Leader
& Director of Fun
Bob is starting his second summer at Holiday Hill daycamp. He comes with the experience as an assistant director of Camp Mount Laurel. During the school year he works as a high school social studies teacher. He is looking forward to a fun summer at the Hill with his whole family!
Adam O'Leary, Aquatics Director:
Adam has been working at HHDC for 8 years. For the first 4 years, he was a lifeguard and swim instructor. For an additional 3 years, he has been the water front Director, and now his position is the Aquatics Director. During the year, Adam is a Physical Education teacher for New Haven Public Schools and he is also a football and baseball coach at Wilbur Cross High School in New Haven during the fall and spring.
Jere Ulmer, Group Leader:
Jere will begin her third year at HHDC. She is a former educator and during the school year she enjoys teaching English as a second language overseas. She enjoys spending time with her son, husband, and two dogs.
Mike Piscitelli, Program Director
Mike is starting his second summer working at Holiday Hill. As a kid, he was a camper for three summers at Holiday Hill. Mike is a certified Physical Education teacher with a masters in Special Education. Mike enjoys spending time with his wife and two kids, working out, and playing sports.
Daly Cunningham, PreKamp and Lower Camp Coordinator
Daly is starting her 22nd summer at HHDC. She has been with us since she was 4 years, growing from a camper to a C.I.T, counselor, and even a lifeguard. This summer, she will be our PreKamp and Lower Camp Coordinator, working to give our youngest campers the ultimate camp expereince. Daly is an elementary special education teacher with New Haven Public Schools.

Taryn Christiani, Nurse
Taryn is beyond excited to be starting her first year at Holiday Hill Day Camp. She is a registered nurse with a background in school nursing and cardiac/telemetry nursing. Currently, she is the district nursing supervisor for Derby Public Schools while acting as the primary nurse for Irving Elementary School. She has two daughters, Talynn (21) & Delaney (9), and a son Brody (12) who keep her extremely busy with sports and dance. During the summer, she enjoys being outdoors with her husband and friends watching her kids swim and cheering Brody and Delaney on at their sports and dance practices.